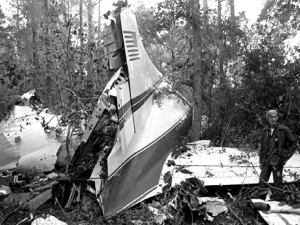 Like today, it was a Thursday, October 20th.  But on this day in 1977, a Convair CV 240, a twin engine, 40-passenger plane carrying Lynyrd Skynyrd would crash into the Mississippi mud near the town of McComb after running out of fuel enroute to a concert in Baton Rouge, Louisiana.  It has been said, but never confirmed, that Aerosmith had looked into chartering the aircraft, but passed on it over concerns about the safety of the airplane and the experience of the crew.  It was also reported that Lynyrd Skynyrd themselves had concerns about the aircraft and were to take a vote following the Baton Rouge performance as to whether or not to continue using it.
Killed instantly were singer Ronnie Van Zant, guitarist Steve Gaines, vocalist Cassie Gaines, assistant road manager Dean Kilpatrick, pilot Walter McCreary and co-pilot William Gray.  Severely injured were the other band members and road crew suffered terrible injuries. Drummer Artimus Pyle and two crew members made it of the downed plane and made their through a swamp and woods and got the attention of a farmer who called for help.
Skynyrd's album "Street Survivors" had been released just days prior, the cover depicting the band standing amidst flames, and in deference to the disaster, their record company reissued the album with different art.
A writer for the Times-Picayune in nearby New Orleans was in McComb that evening and it was the night of the crash that he began his career at a photojournalist.  He recalls that awful evening HERE.
Also, courtesy of tennesseeconcerts.com, you can see the local McComb newspaper's coverage of the disaster HERE.