Led Zeppelin "Led Zeppelin III"
(Released 10/5/70)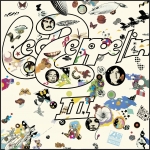 The band retreated to a cottage called Bron-Yr-Aur to work on the third album. The serenity of the cottage had a lot to do with the songs that came out of the sessions (to say nothing of the obviously-inspired "Bron-Y-Aur Stomp"). While there are rockers on the album, ("Immigrant Song," "Celebration Day," "Out on the Tiles"), Zeppelin III's most memorable for its acoustic turns.
The album was generally underappreciated when it came out; critics and fans were disappointed they didn't get "Whole Lotta More Lotta Love." It's aged beautifully, though. Perhaps still underappreciated, but wholly respected.
Album sales (U.S.) -6 million
Chart position -1
LISTEN TODAY FOR YOUR CHANCE TO WIN LED ZEPPELIN III!