Led Zeppelin – Untitled
(Released 11/8/71)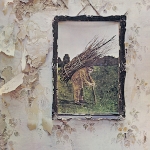 It's not called "Led Zeppelin IV," though you probably already knew that. The fact that the album's untitled is basically a middle finger to the press. Since reviews weren't kind to the last album, Zeppelin decided to go nameless for what would become their defining album. (The band's name isn't even on the cover.)
So what on earth do the album's symbols mean? "ZoSo" was something Jimmy Page designed. He says the characters aren't meant to be read as letters.
John Bonham's three circles are supposed to represent the interwoven lives of mother, father and child.
Robert Plant's feather-in-a-circle has ties to the Egyptian goddess of truth and justice.
John Paul Jones' interlocking ovals in a circle is from a book of runes, symbolizing a confident and competent person.

Album sales (U.S.) -23 million
Chart position – 2
LISTEN TODAY FOR YOUR CHANCE TO WIN LED ZEPPELIN'S FOURTH ALBUM!