Led Zeppelin "In Through the Out Door"
(Released 8/15/79)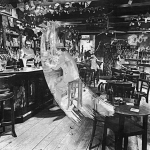 Jimmy Page was less of a presence (no pun intended) for the "In Through the Out Door" sessions because of his increased drug use. That gave John Paul Jones an opening to step up his game.
Jones and Robert Plant drove the sound of what would become the final Led Zeppelin studio album; it was softer… maybe even schizophrenic… but it also gave us the blistering "In the Evening" and the island-flavored "Fool in the Rain," which erupts into a John Bonham percussion bonanza.
Just over a year after the album's release, John Bonham died at the age of 32, effectively ending Led Zeppelin.
Album sales (U.S.) – 6 million
Chart position – 1

LISTEN ALL DAY FOR YOUR CHANCE TO WIN A COPY OF "IN THROUGH THE OUT DOOR"