The following interview with Eddie Webb was done in 2010 with former Looper, writer, publisher and Illinois Entertainer media critic Rick Kaempfer at Chicago Radio Spotlight.
(Reprinted from the source with permission. Originally published 10/23/2010)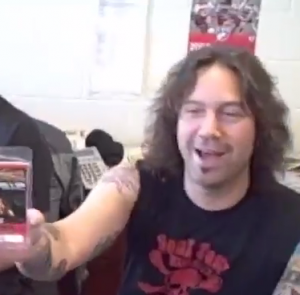 Eddie Webb is the host of the nationally syndicated VH1 Classic Rock Nights, but is known to Chicago listeners for his two stints with WLUP-FM (97.9).
Rick: How are you liking it in New York?
Eddie: I miss Chicago, I tell you that. As somebody that has moved around a lot, there are some places you absolutely love, and for me, Chicago was one of those places. And there are some that are not as great. New York would be great if I was 22 years old, or making 22 million dollars.
Rick: Tell me about your VH1 Classic "Rock Nights" show. Sadly, it's not airing here in Chicago.
Eddie: No, that's true, it's not on in Chicago yet, but it is nationwide. We're certainly not reinventing the wheel, but I'm having a great time. It's not a talk show. It's just great classic rock played by a guy that really knows and loves the music. And because of the VH1 brand, and the fact that we're in New York, we also have some great guests on the show. Robbie Krieger from the Doors is coming on tonight (we spoke on Thursday).
Rick: Can your Chicago fans listen on-line?
Eddie: The website is vh1classicrocknights.com, and once you pull up that page you can go to one of the affiliates that stream the show. We have 30 stations now and we should be up to 40 by the end of the year.
Rick: How did this all come about?
Eddie: When I was at the Loop, somebody I knew reached out and said there was a big hush hush opportunity to do a national show on the horizon, but they couldn't give me any details yet. And even though I love Chicago and the Loop, I figured I owed it to myself to investigate. It never hurts to listen. Well, I finally got some details, and it sounded intriguing. They had done a radio show for CMT. They hired this guy from Salt Lake and put him on the air and syndicated it, and discovered that the television ratings were waaay up in every market the radio show aired. So, they said: "We'd like to do a classic rock show to support VH1 Classic, and we'd like you to be the host." They said they wanted to launch in May, and the timing worked—and it really sounded like a great opportunity—so I agreed. I moved to New York in April.
Rick: You mentioned your time at The Loop, which is where you were right before this job opportunity—and it was your second go-round there. I'm guessing this second time was a little more stressful than the first. For one thing, you were doing two jobs for awhile there. Then there was the whole financial turmoil within the company, and the programming started coming from St. Louis. Did any of that figure into your decision making process.
Eddie: Absolutely. It definitely figured in. I really don't like to drag people through the mud, but when they started programming the Loop out of St. Louis, and consolidating jobs, and cutting back, that wasn't a good time. Chicago is not some small market in Iowa somewhere. Chicago deserves 24-hour live disc jockeys. Chicago radio stations deserve their own programmers. These people out of St. Louis meddled and left, and we had to try to explain to our listeners why the musical accountants didn't think we should playing this band or that band, when we knew darn well the listeners were right. Music is obviously all subjective. There are people that like Rush or Pink Floyd or whatever, but I've always believed that people voted with their wallets. If they're buying it, they'd definitely want to hear it on the radio.
On top of that, the station wasn't making any money; they were having serious financial problems. I'll be honest with you, it was depressing to see the station become a shell of it's former self. I was really proud to be at the Loop, I loved that station so much, that if this offer had come a few years earlier, I probably wouldn't have taken it. By the time it did come, it was a no-brainer.
Rick: What are some of your favorite memories from your Loop days?
Eddie: Oh man, there's a lot of them. Obviously working with a legend like Jonathon Brandmeier—what an honor that was. Doing the Loop Rock Girl…
Rick: Be careful how you say that.
Eddie: (laughs) Right. Doing the Loop Rock girl promotion. (photo) That was a ton of fun. But you know, this is going to sound corny, but my favorite memories are the times I went out to these concert events, where we were broadcasting live, and just meeting the Loop listeners. These great Loop fans treated me like I was one of their buddies—they didn't ask for autographs, they talked to me like they knew me. They just wanted to have a beer with me and talk about rock and roll. You know, real people. I loved that. These guys really are just like me. I know this format. I live the format. This is who I really am. That's why I could never do some of those other formats, like a Mix format or one of these AC formats.
Rick: I run into Byrd at a lot of the concerts I go to, and he's the same way.
Eddie: Absolutely. Byrd (photo) totally is. He lives the format too. It's a bummer that the decisions are being made now by guys that aren't really in the audience, and don't really understand them.
Rick: One of the things that no one ever questioned about you was your rock and roll authenticity. It just takes one second of looking at you to notice that. But not everyone realizes that you actually worked with some of the biggest bands. Talk about that time.
Eddie: I was living in Phoenix and a buddy was a tour manager for Skid Row and asked me to come out to the show—and when I came out, he asked me if I wanted to stay with the tour. I said "You mean right now?" He said yeah, and I said "What the hell?" I did that for a couple of months. When I got home, a buddy of mine had moved to LA and he was working with Madonna at the time, and said you gotta come out to LA, man. So I did, and one of my friends was working for Guns and Roses, and he heard that the guys Duff (photo) had hired were ripping him off, and taking advantage of him. So, I went over there to clean out the place. I went from feeding his dogs, to before I knew it, making appointments with contractors, and occasionally going on the road with them. I was sort of like part assistant/part security—not that I'm a badass or anything.
Rick: You must have seen some things.
Eddie: (laughs) I'll take a few of those stories to the grave. It was the usual rock and roll stuff.
Rick: What about Ozzy? You worked with him too, didn't you?
Eddie: That was a few years later. I got an e-mail from a buddy, asking if I'd like to do this MVP program for Ozzie. This would have been 2004, and I did that three and half years and toured the country with the band in a bus, and ran this VIP program. In select cities, Sharon Osbourne also did a platinum project. We'd bring in these ten people, and we'd take care of them, and make them feel special. I'm a small town Iowa boy, born and raised—a town of 8000, and if you told me when I was a kid, that I would end up working for Ozzy, I never would have believed it. It was a great time. After that, I got back into radio in Vegas, and then back to Chicago.
Rick: You've been in the rock and roll business now for a long time, and met just about everyone. Who are some of your favorites and least favorites, just as people to talk to?
Eddie: Most of them are great guys. I just recently interviewed Jason Bohnam. He was awesome. Kevin Cronin. Awesome. Skid Row was cool. Believe it or not, Donny Osmond was one of my all-time favs. He gets it, he understands who he is, and he goes with it. He was just a fun interview and a great guy. Of course, Duff and Slash are two of my all time favorites.
Rick: I met Slash once, and was really surprised that he's such a gentle dude.
Eddie: No doubt. But compared to Duff, Slash is a dick (laughs). That's how nice Duff is.
Rick: What about guys that you were excited to meet? Any rock and roll heroes?
Eddie: I got a chance to meet Robert Plant once, and while they were laying out all these ground rules, I almost bumped right into him. He looked at me and said: "Who do I have to fuck around here to get a cup of tea?" I said, "Dude, I hope it's not me."
Rick: What about least favorite?
Eddie: There are two guys I talk about on the radio—my listeners know how I feel about them. Chris Robinson (photo) was the biggest dick ever. Every time in the last ten or eleven years that I've played the Black Crowes, every time, I play a tape of this caller saying "That guy is a dick"
I will not interview him again or go anywhere near him.
Rick: What did he do?
Eddie: He is just one of those guys that is too cool for the room. I said, "You guys are like the ultimate garage band," which I intended as a compliment, because I really do like their music. He said: 'We ain't no fuckin' garage band!" Real pleasant.
The first time around at the Loop, I was down in Atlanta for the "By Your Side" album release show, live on the radio on the SFX network. I was the host of the show. There were people from radio stations all over the country, and we were squeezed into this little rehearsal studio in Atlanta. I was crushed against the stage, and had my notes on a music stand.
I don't know if you've done a show like this before, but we were on about 200 stations—this was a live network show, and we had planned out the show very meticulously with the SFX people—I wasn't exactly ad-libbing up there. One of the questions someone asked compared Robinson's raspy sound to Rod Stewart, which to me, again, is totally a compliment. He said "I'm going to go down there and kick you in the teeth."
Rick: Whoa.
Eddie: The other guy I couldn't stand was Stephen Pearcy from Ratt—but he's a combination of dick and stupid. So I'll cut him a little slack. But those are really the only two bad experiences.
Rick: What about rock and roll radio? Do you have any radio heroes?
Eddie: You bet. John Records Landecker (photo). I will say this to anyone that will listen; he is the guy that inspired me to go into radio. I don't know whether to thank him or blame him for that. I still remember this like it was yesterday. It was in January, and I was like 15 years old, living in Iowa, and WGN-TV aired this special show following John around the studio, asking him questions about the job—why he did it—what he loved about it. I was watching him in the WLS studio, doing his bit, doing his thing, and I was just MEZMERIZED. (Here's a portion of that show)
My father owned a hardware store, and that summer his store was doing a promotion with a local radio station, and he asked me if I wanted to come to the station with him, and I did—and I see this guy talking into that same nerf ball microphone, and I thought –man this is great, this is what I want to do. And they said they needed help on the weekend, and would I be interested? Are you kidding me?
It was a beautiful music station, and I would change these tapes, and then I got to read the weather. I thought I was big time—I had visions of grandeur.
Since those days I've tried to listen to whatever Landecker stuff I could get my hands on; tapes, MP3s, you name it. He was tremendous. I mean he would become a part of that music—whatever he did made the music even better. I know he did a good morning show and a talk show, but for my money, if I had a radio station, I'd put him on at night, and say, here's a million dollars play whatever, and do whatever you want. He was the greatest disc jockey ever.
I ended up having lunch with John a few years ago, and I was really nervous, more nervous than I was meeting any of the rock stars I've met. Meeting him was like meeting Wolfman Jack.
Rick: It seems like you've seen it and done it all in the business. Are there any unfulfilled career goals?
Eddie: I just want to be on a farm in the middle of nowhere and not see anyone—especially PDs. Just kidding. In all seriousness, I'm really very happy where I am now, and I'd love to grow with this show—get it on 100 or 150 stations across America. And maybe somewhere out there, another 15-year-old kid will be listening, and be inspired to do this too.