Roman Sawczak was one of the producers of the Steve and Garry show on the Loop, as well as the musical director of Steve's band, Teenage Radiation. The following is an interview done in 2007 with former Looper, writer, publisher and Illinois Entertainer media critic Rick Kaempfer at his blog, Chicago Radio Spotlight.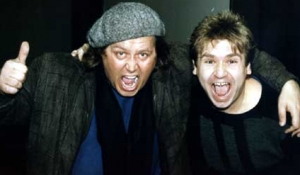 Rick: Tell the story of how you met Steve & Garry.
Roman: The top 40 band I was playing in was booked to play at a "Disco Takeover" party at a big disco club the Pointe East on June 2nd 1979. The LOOP sponsored the event with Steve as the Commander. He was doing a version of "Do Ya Think I'm Disco" on his show singing over the Rod Stewart lyrics. We decided to surprise him and learn the song to perform it live that night. He liked the idea. The night ended prematurely as around 3500 people showed up to a club that held around 1200. Lots of law enforcement wearing riot helmets chasing people out. Pretty scary. Of course, several weeks later (July 12th 1979) the whole country was introduced to Steve with Disco Demolition.
Rick: You were there for some of the heady days of Steve & Garry. Do you have a favorite Steve & Garry radio memory? A most memorable moment playing in their band?
Roman: It's hard to pick a favorite moment over an 11 year time span because there really were many. A lot of celebrities came through the studio but I will never forget Warren Zevon. He was the only person ever allowed by Steve and Garry to smoke in the studio. That's how much they respected and were in awe of his visit. I had the honor of co-hosting when the boys were on hiatus with people like Joe Walsh, Richard Belzer, Richard Lewis and many others. Of course there's the time Janet was out of town and entrusted me to stay at the house with Steve. We ended up staying out all night and Steve could not make it to the station for the show. He called Garry and did segements over the phone. Garry was not a happy man.
As for the band, playing in Teenage Radiation was memorable, educational, and pretty darn fun. (That's Roman jamming with Joe Walsh in the photo) Within several weeks I went from playing in a top 40 club band to playing in front of around 50,000 people at the County Fairgrounds in Rockford. We shared the bill with Cheap Trick, The Baby's, Molly Hatchet, and AC DC. I remember playing LOOPFest at the Amphitheatre doing Ayahtollah and having the singer and guitarist from The Knack joining us on stage. Or a super wild 5-show weekend where we played two shows at the Park West on Friday and two on Saturday night and wrapped up Sunday night at Navy Pier for Chicagofest. Here's another memory, playing the Park West and having Jim Belushi jello-wrestle Andy Kauffman. I can go on and on.
Rick: How would you describe your relationship with Steve & Garry during those years? Are you still in contact with either of them?
Roman: The only contact I have with Steve is occasional emails. I spoke to Garry last year, I believe. I intentionally have avoided being a pest. And besides what do two millionaires have to talk about with a guy like me?
Rick: You were away from the business for quite awhile. What were you up to during those years?
Roman: I took a break from radio and music. I needed to work on some priorities namely starting a family. For myself, I felt I needed to get out of the lifestyle I was in. I am married 16 years and am blessed with four beautiful children. I have been a Real Estate Broker in Northwest Indiana for 15 years.
Rick: You recently hosted the morning show at WJOB in Hammond. Was that a good experience for you?
Roman: Through the years I never had the urge to go back downtown into radio. But that changed over the past couple of years when Chicago radio veteran Ric Federighi became part owner of WJOB in Hammond Indiana. I thought it might be fun to dabble in broadcasting again on a local level. I had no idea how much I missed being a part of broadcasting until I started hosting a show. After the initial rust loosened up I felt right at home. I did have an advantage, I got to learn from some of the best in the business. Unfortunately following a split in ownership which included Federighi leaving, the current owner decided to play satellite music. Rats ! So at this moment I am not on the air but am definitely interested in continuing in broadcasting. Hint Hint
———————————————————